Having grown up on the Boston area, I remember eating clam chowder since I was a kid. At home my mother always made fish chowder which was a milk based chowder and much thinner than the current versions of clam chowder. So when I make clam chowder I find I prefer a medium to thin chowder. But that's the interesting thing about most foods, including New England Clam Chowder, you can always change it to make it your own. Start with the Clam Chowder recipe below and later we will explore 8 Steps to Creating Your Recipe for New England Clam Chowder.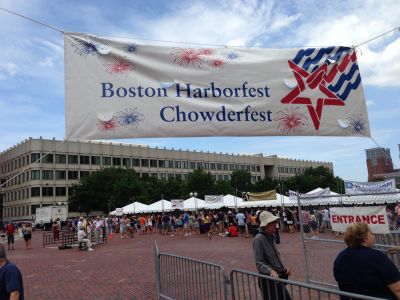 Boston Harbor Chowderfest
New England Clam Chowder is a staple of all Boston seafood restaurants as well as most bars and pretty much every other type of restaurant in New England. A couple of my favorites are Durgin Park and Sam LaGrassa's. Durgin Park probably because my grandfather first took me there many years ago and it was clam chowder and fried clams which will always be favorites. Their chowder is a medium thickness with a pretty traditional flavor.
Sam LaGrassa's is actually more known as a sandwich shop that serves Boston's business folks some of the best pastrami around. It was featured on Diners, Drive-ins and Dives and clam chowder was one of the featured dishes. It is a much thinner chowder, more reminiscent of fish chowder, with a very herby taste. I think it is one of those that either you really like or you prefer the more milky flavor of "traditional" chowder. I would actually consider this more traditional than most of the chowders being served around the area.