Pear and walnut salad with raspberry vinaigrette comprises field greens, pears, walnuts, dried cranberries and a light coating of a raspberry vinaigrette dressing. It is based around a salad served at Cafe Brasil in the Montrose in Houston, TX. The ingredients are pretty much the same but I put a different spin on the dressing to make it my favorite. If you are ever in the area I encourage you to stop by and try this. Great salad served in a very casual setting and on a beautiful March day you can sit outside on the patio and take in the sights and sounds of Westheimer.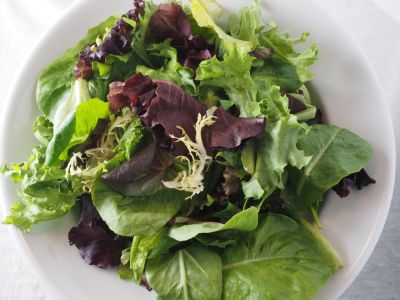 Mesclun Greens
Mesclun, as defined in Webster's Dictionary, is "a mixture of young leaves from different plants (such as different types of lettuce) that is eaten as a salad." The beautiful salad greens pictured above came from Wilson Farm in Lexington, MA. A place I love to go and just wander, although if you are there you will buy something for sure. Great vegetables and the quality and freshness are unsurpassed. You could actually eat these greens right out of the bag like potato chips and be perfectly satisfied but when combined with the flavors and textures of the fresh pear, walnuts and dried cranberries, this recipe is a real treat.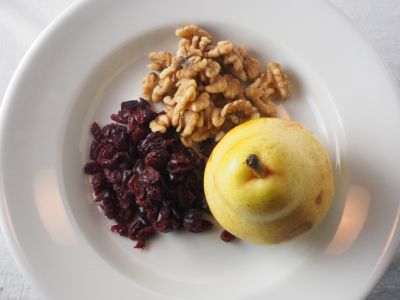 Pear, Walnuts and Dried Cranberries
And the dressing explodes with raspberry flavor combined with the strong tang of lemon juice to bring it all together in a most satisfying way. This is a salad dressing that in a pinch you could add a couple of shots of vodka and serve it as a cocktail! Yes, it's that good.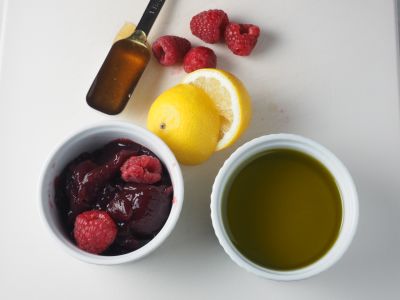 Raspberry Vinaigrette Ingredients
It's simple and quick to prepare so give it a try. Enjoy!