When I think of jambalaya I immediately think of southwest Louisiana, Cajun country. Rice is one of the main crops grown in the area so it is no surprise that this dish is prevalent there. Pretty much everything in this area starts with the Cajun holy trinity which is onion, celery and green bell pepper. Then you add some sausage and chicken, and of course the rice and stock. And you end up with a hearty, rib sticking meal that should be served with a loaf of crusty bread and plenty of your favorite hot sauce. So join me as we talk about making this wonderful jambalaya and then we will talk about how to modify this recipe to make your very own jambalaya recipe.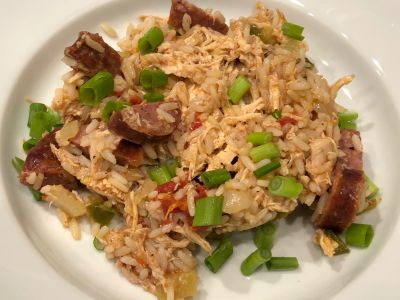 Plate of Jambalaya Served with Green Onions (Scallions)
I worked on this recipe making it for a good buddy named "Moe", actually Marion Meaux, who grew up in Kaplan, LA. Moe has since passed on but many fond memories remain of the times we had together. I would cook and he would always give me pointers as to what he liked, and it's really a joy to cook for someone who appreciates the efforts and the results. He would tell me this is good but next time it should be a little drier, or it should be this or that. And then eventually it was "that's it." And by getting his blessing on the dishes I made for him I knew I was on the right track to making something that was close to that which would be served somewhere in southwest LA. But more importantly something we both liked to eat.
As I mentioned this dish starts with the holy trinity of Cajun cooking, namely onion, celery and green bell pepper. Very little is made in Cajun cooking without it. The standard mix is about 50% onion, 25% celery and 25% bell pepper but I happen to like celery with this dish so I up the quantity of that a little bit. I also add garlic which is pretty traditional.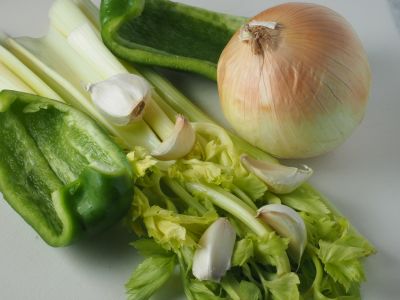 Cajun Holy Trinity with Garlic
During the cooking process, I like to put the rice in after the vegetables have finished cooking to help soak up the oil that might be left over and to add a little more flavor to the rice. And I only use Uncle Ben's converted rice. It's what I have always cooked with and I know how it cooks and I'm used to its flavor profile. You can use whatever kind of white rice you want but you have to understand that different rices have different flavor profiles and textures.
I also like to add tomatoes to my jambalaya. This is a little more of a Creole tradition as the Cajuns don't use as many tomatoes as they do in New Orleans. And this probably has something to do with growing up in New England where tomatoes are common in a lot of foods. Back to the old adage, if you like it, do it.
I like traditional Texas/Louisiana smoked sausage for this dish. I don't like andouille sausage in this so much because I think it is a little strong for my preference. If I have some on hand I might add a 1-2 inch length of it cut into small pieces but the primary sausage is a traditional pork smoked sausage. The kind you can find in any grocery store in Texas such as Holmes or Chappell Hill. Or if you're lucky the kind you get at Pete's Fine Meats in Houston, the La Grange Smokehouse between Houston and Austin, or The Best Stop in Scott, LA just outside of Lafayette off I-10. And if you go to The Best Stop, you have to try their boudin. Man that's good! And the boudin doesn't go in this dish, you just eat it on some crackers while you are cooking this dish.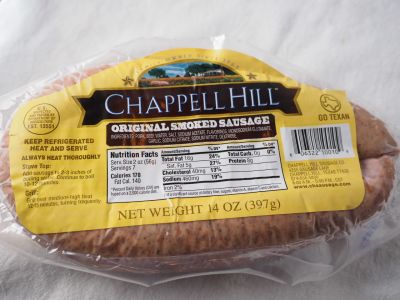 Chappell Hill Sausage
Regarding the chicken, I like to use bone-in, skin on chicken thighs because I think they have the most flavor and I really like them when making homemade chicken stock. And speaking of the stock you will use in this dish I can't emphasize enough that the more love you put into making a rich chicken stock the more depth of flavor you will have in your final dish. But if you're in a hurry you certainly could use store bought.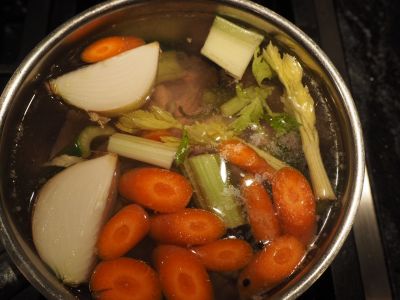 Making the Chicken Stock
So there you have it. Let's get cooking, I'm getting hungry talking about all this good food. Enjoy!