I imagined coming in off a fishing boat on a cold early winter day, unloading the boat and then heading down to a local establishment for some nourishment. Something hot and spicy and filling. So I immediately thought New Bedford and something with a Portuguese influence.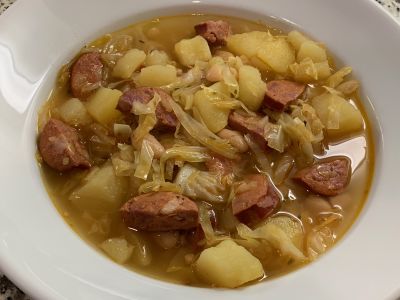 The Finished Product
Chourico is a classic Portuguese sausage that comes in varying degrees of heat but all versions are over the top with flavor. So that was going to be the basis of the soup. And I wanted the hot version (Linguica being the milder of the two sausages) and would even add a little more heat in the form of a nice hot paprika or even cayenne pepper. The classic version of this type of soup is made with kale. But I'm not crazy about kale and thought cabbage would be a really nice addition because it is almost meaty in consistency and is also very filling.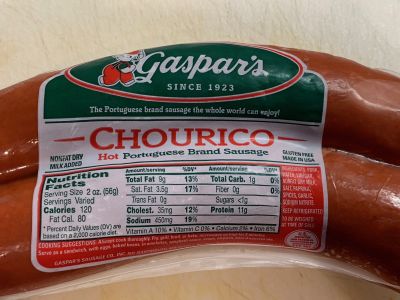 Gaspar's Chourico, a Popular Brand in New England
On top of that add some onions, garlic, potatoes and beans and you have a real hearty meal for that cold wintry day. So give it a try and let us know how you change it up to make it your own. Enjoy!