Back in the mid 70s I was lucky enough to be working in New York City near a restaurant called Meson Botin which was situated between Seventh Avenue and Broadway on W 58th St. The owner was a charming man named Pepe and would always be around to make sure your experiences were the best.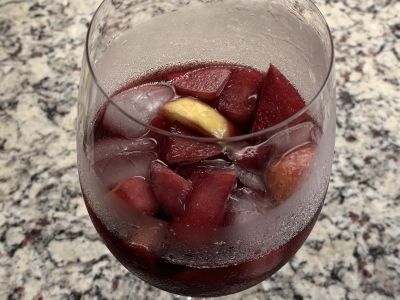 Glass of Ice Chilled Sangria
One of the things I remember the most was occasionally getting a pitcher of sangria which Pepe would make table side on a rolling cart. I don't remember all the particulars but it did include macerated fruit and brandy and of course, red wine. It definitely made for a nice lunch break.
I spent some time trying to recreate it to the best of my recollection and below is what I came up with. It is important to remember that Sangria is more of a technique than a recipe. So start with this and let us know how you change it to make it your own. Enjoy!