This recipe is the result of many years of trial and error. I have been doing them for so long now I don't even think about it any more. They take some time and patience but that's true of most everything that is really worth doing. You won't be disappointed.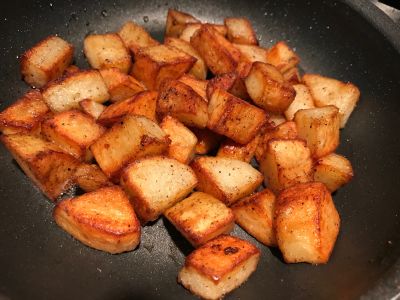 Potatoes Ready in the Pan
Most restaurants use shortcuts to make home fried potatoes. They will steam them the night before or some even use canned potatoes. And there is no way you can make a canned potato taste good. The steamed potatoes can be very good however and sometimes I will even do that if I feel like something different. That recipe will be coming soon.
But for now, spend some time and try these. I have added a lot of pictures because the only thing you can really do wrong here is to use too much heat or not enough heat. And it's hard to not use enough heat because as long as they are sizzling at least a little bit you have enough heat. But play around with it. I will increase and decrease the heat multiple times during the cooking process and I'm sure after you do this several times you will do the same.
Have fun and I guarantee once you get the hang of this everyone will ask you to make the potatoes for breakfast!