In Boston, St. Patrick's Day is a big deal. The parade in South Boston is always an event and draws a huge crowd from Boston, the surrounding area and across the country. Of course every bar in town is serving corned beef and cabbage as part of the celebration, along with the beer which is flowing pretty well also. So get in the spirit and make corned beef and cabbage for your St. Patty's Day celebration!
This dish is also known as a New England Boiled Dinner and comprises corned beef, potatoes, carrots, onions and sometimes root vegetables like turnips, rutabegas or parsnips. The corned beef can be the kind you find in your local grocery store or one that has been corned by a local purveyor, like at the K & 8th Street Market in South Boston. This type of corned beef is sometimes called gray corned beef because they do not use Nitrite in the "corning" process like the commercial vendors and that is what gives it that pink color.
Commercial Corned Beef
Corned beef has nothing to do with corn. The term comes from the process they used to use for preserving meat which was to rub it with large crystals of salt that resembled corn kernels and then letting it cure for a period of time. You can do it yourself at home if you have enough room in the refrigerator. However, today most of the people that make their own corned beef use a brining process which is soaking the meat in a salt water solution to accomplish the pickling process.
And you will probably notice that there are two cuts of corned beef, the Flat Cut and the Point Cut. The Flat Cut tends to be leaner while the Point Cut tends to be fattier. If you like nice slices of corned beef, use the flat cut. The corned beef pictured below in this recipe is a Flat Cut Corned Beef.
So whatever kind of corned beef you decide to cook it is all good. And this is a relatively easy dish to make. It is very forgiving and will feed a large crowd if you have a big enough pot. This recipe is accomplished by boiling the corned beef in a pot on the stovetop, thus the term New England Boiled Dinner. I like to do it for about 2 3/4 hours because I prefer the corned beef to hold together and not fall apart when you slice it. And you can cook the vegetables in the cooking liquid like I do in this recipe, or in a separate pot with just water or stock, or you can even roast the vegetables in the oven and serve them that way.
The vegetables can be what you like although traditionally it will always include potatoes, onion and cabbage. I like carrots and also the root vegetables to be included as well, both of which are frequently part of a New England Boiled Dinner . But you do have some latitude here so put in what you like.
Make sure you cook a corned beef that is as big as what will fit in the pot so you have leftovers for the day after St. Patty's day for your
Corned Beef Hash
. It will help nurse you back to health after all that celebrating! So let's get cooking and have a safe and fun St. Patrick's Day wherever you are. Enjoy, or if you're Irish, Slainte!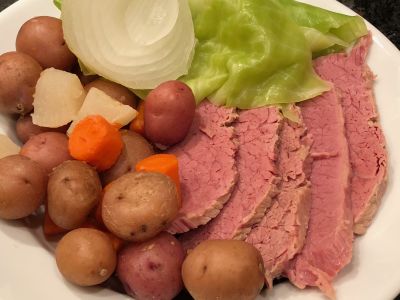 Corned Beef and Cabbage (or New England Boiled Dinner)