Southern fried chicken is one of those things where having growing up in the north I never quite knew what all the hype was about. Sure, I've had KFC and ordered it in a restaurant or two and it was good. But then one night we went to this little family owned joint in downtown Houston before a show and I ordered the fried chicken. It was one of those "aha" moments when you say "now I know what all the hype is about and now I know what it is supposed to taste like."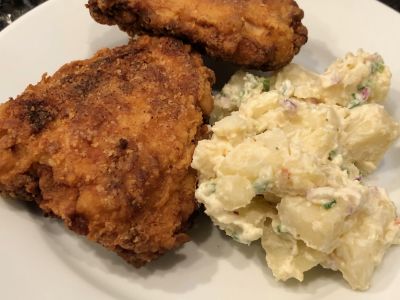 Fried Chicken with Potato Salad
Not that I'm suggesting that you (or I) will be able to duplicate that anytime soon. If you didn't learn how to do this from your southern grandma who learned it from her grandma, you have a long way to go but you have to start somewhere. And this is a really good start.
But before you get started here are a few warnings to which you really should pay attention.
Use a thermometer to measure the temperature of the oil and also the temperature of the chicken so you can tell when it is done.
Do not ever leave chicken frying on the stove unattended. EVER!
Measure the temperature of the oil often to make sure it doesn't exceed your desired temperature.
Make sure the sides of your pan are high enough to handle the rise in the oil level when you put the food in the pan. When the chicken is introduced to the pan it will bubble which will cause the level of the oil to rise a bit. You do not want any chance of the oil spilling over the side of the pan.
Be careful at all times. The oil is extremely hot and can cause very severe burns if it splashes on you or someone near the stove. Keep the kids and pets away from the stove area.
Never introduce any utensil or any other implement that is wet with water to the oil. It is the quickest way to burn yourself or burn down your house.
Oil can and will catch fire if you are careless and if it does, you need to be prepared. If the fire is in the pan, make sure you have a lid large enough to put on top of the pan right after you turn the heat off. NEVER throw water on a grease fire!!
If the fire has spread outside of the pan you're on your own. I assume you are an adult and should know what to do if your house catches on fire.
If you cook it's always a good idea to have a fire extinguisher handy in your kitchen.
Above all, have fun!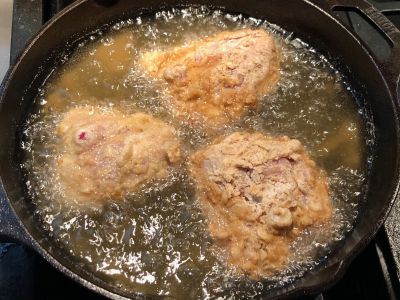 Chicken Frying in the Hot Oil
Now that we've gone through that if you are careful you will be fine and the results will be worth it at your next picnic or family get together. And over the years you will get better and better at this as you experiment with times and temperatures and ingredients as well. So do have fun with this and be sure to stop back and tell us how you make it your own and make fried chicken better than any southern meemaw ever could. Enjoy!