Now that summer is in full swing so is fresh basil. It is plentiful and if you don't have the space or desire to grow your own, it is relatively cheap to buy at your local farm stand. One of the most vibrant and popular ways to use all this basil is to make a quick and easy Basil Pesto. Try out this recipe and then visit How to Make Your Own Basil Pesto Recipe to add your touches to the dish.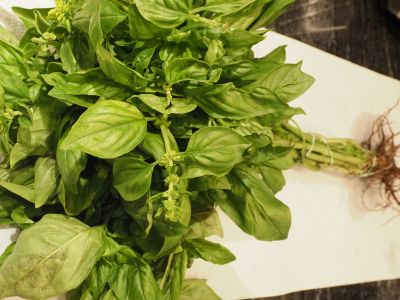 Farm Fresh Basil Plants
The star of the show here is basil and most often you add some garlic, pine nuts, Parmesan cheese, salt and olive oil. A good friend whose roots are Chicago Italian suggested to me one day that I should add some parsley in also. So I did and I really like it. I also like to add the cheese when I serve it for a couple of reasons. One, you can freeze the leftovers in the slim chance there are some. And two, I find some people like to control the amount of Parmesan they add.
Ingredients are king here so don't skimp on the olive oil or the cheese. The olive oil should be a good quality extra virgin olive oil and the cheese should be freshly grated Parmigiano Reggiano. Enjoy!