Often served at festive occasions and family gatherings, lasagna is sometimes a simple noodle, cheese and sauce dish. This lasagna recipe is a more sophisticated version that includes a creamy mushroom bechamel and a hearty tomato infused meat sauce. It is more than a meal, it is a celebration.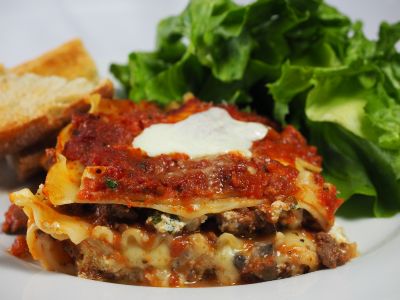 Lasagna with Mushroom Bechamel Sauce
Lasagna is another one of those dishes where, for me, a recipe is never in sight. Sometimes I will tour the North End of Boston going to Sulmona Meat Market to have Franco grind a 50-50 mix of beef and veal for some meatballs. And then walk on to see Joe at Pasquale's Pasta Shop (now moved to the Bricco complex) for some fresh pasta sheets and some of that amazing fresh ricotta cheese. Then on to Salumeria Italiana on Richmond St. where the wonderful aromas of cheese, salumi and freshly made antipasto pleasantly overcome you when you first walk in the door.
Of course when you make lasagna it is a dish that must be shared with friends and family. So thanks to Jennifer for the bechamel tip. She is of Italian descent and always makes her amazing Christmas party lasagna with bechamel sauce. Love it! Or when good friends Tommy and Jack are in town from Houston and we have been to the Black Rose for a Guinness and to the North End for the aforementioned shopping trip on a Saturday afternoon. Great memories. A really good lasagna can do that like few other dishes.
When I recently made the version below, I gave some to my daughter and that night got a text with a video of my one year old granddaughter using the two-fisted method to stuff the lasagna into her mouth as fast as she could. I knew I had a good recipe to share with that kind of enthusiasm as evidence. So let's get cooking and this is one I know you will enjoy!