Homemade spaghetti sauce is so much fresher and more flavorful than anything store bought, I am surprised everyone doesn't make it at least once or twice a month and keep serving size portions in the freezer. Making spaghetti sauce can be as simple as emptying a can of tomatoes into a sauce pan and adding a few herbs. Of course, you can go much further with this to make it something really special, all without a whole lot of effort.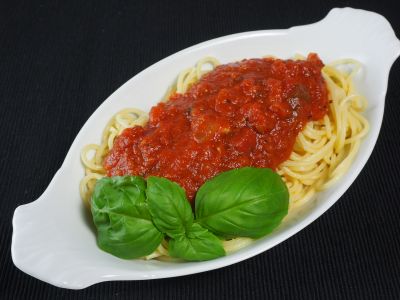 Spaghetti Sauce Over Pasta
I tend to make three different base spaghetti sauces. This recipe which is made from canned crushed and whole tomatoes that I use in dishes like lasagna and baked ziti. A second one made from DOP Certified San Marzano tomatoes without the puree which is a very simple sauce meant to go over fresh or dried pasta. And a third from fresh tomatoes that I will use alone over fresh pasta or in a simple sauce like pasta puttanesca.
The recipe presented here is a good starting point and is the result of eating a lot of pasta along the way. I use it for simple pasta dishes as well as things like lasagna, baked ziti or even lobster fra diavolo. I consider this to be my basic spaghetti sauce and will pretty much always start here when I want a tomato sauce. Of course, if I am in a different mood, I may add additional ingredients to satisfy my taste cravings but the base sauce is always the same.
Since this is a tomato based sauce it is worth mentioning that your choice of tomatoes will go a long way toward defining the flavor of this dish. Check out our
discussion on canned tomatoes
to help you understand the differences between all the types of tomatoes available on the market these days. By understanding the tomatoes and using the same type of canned tomatoes each time you have a much better chance of making this dish time and again with a consistent flavor profile. There is nothing worse than going through the steps of making this and finding it tastes different every time you make it. If that is happening in any recipe, it is most likely variation in your ingredients.
You may notice that I add a few crushed red chile flakes to the recipe. I like the faint sense of heat and the added depth it gives to the sauce. Some may argue that it is not traditional to put red pepper flakes in spaghetti. Then call it Bob's Spaghetti Sauce. The point of this site is to get away from the constraints of cooking nomenclature and explore what you like. So whether you call it spaghetti sauce, tomato sauce or Peepaw's sauce, all that matters is that you like it. Don't get so hung up on the "traditional" or "real" or "authentic" labels that you forget why you are doing this.
So give it a try, let us know what you think, and share your variations with our readers. It will be appreciated. Enjoy!