It's always nice to make your own spice mixes because you can adjust them to your taste. The right amounts of heat, salt, garlic, herbs, etc. It's worth the time and most of these ingredients are probably in your cabinet already. We call this Cajun Seasoning but it is actually the house seasoning at the Boston Sidewalks test kitchen. We use it on everything and on this site will refer to it as house seasoning and also Cajun Seasoning.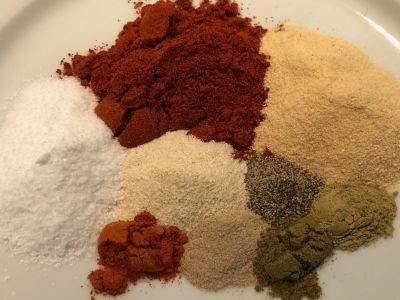 All the Spices and Herbs Measured Out
The recipe is presented using teaspoon measures. The reason for that is it gives you easily readable proportions of the ingredients. Making more of this is very easy, all you have to do is double or triple the ingredients as listed or just change the "t" to whatever measure you want to use..
If you are averse to heat, you can reduce the peppers if you want. In Cajun cooking it is quite common to use black, white and red pepper to balance the heat of the dish. It should never be overly spicy but rather a complement to the ingredients. According to Alex Patout from his book Patout's Cajun Home Cooking, "The black pepper hits you in the front of the mouth, the red in the back, and the white in the throat". So before you cut back on the pepper, I encourage you to give the peppers a try and appreciate the depth of flavor they add to any dish.
One more tip, make sure your spices and herbs are fresh. They do tend to go bad after sitting on the shelf for a while so date them when you first open them. Try not to keep them more than 1 year.
So give this a try and then adjust it to your taste so you know that every time you reach for Cajun Spice mix, or what will become your house spice mix, it will be exactly to your liking. Enjoy!