Once when in NC at a farmers' market I wanted to buy some fresh beets. I noticed the tops had been cut off and asked the farmer why he did that. He said people don't want the greens. I asked him if he still had them and sure enough there was a box of beet greens on the truck ready to be thrown out. So I asked if I could have some and he gladly gave me a bag of them for free. I actually gave him some money for them because it just didn't seem right to get all that goodness for free.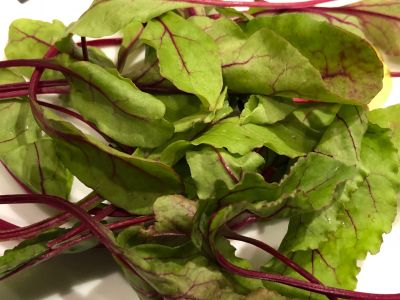 Baby Beet Greens
Point of that story is I like the greens better then I like the beets. Maybe it's because my grandmother used to serve them in the summer at her house and she would always serve them with a hard boiled egg sliced on top and a bottle of apple cider vinegar on the table. In my mind, absolutely the best greens you will ever eat.
Normally you make this with the beet greens you cut off a bunch of fresh beets. And I don't use the long part of the stems but do leave the stems on that are part of the leaves. And if you are lucky enough to live any where near Wilson Farm in Lexington, MA, in the springtime they have baby beet greens that are definitely a real treat. But either way beet greens deserve more respect.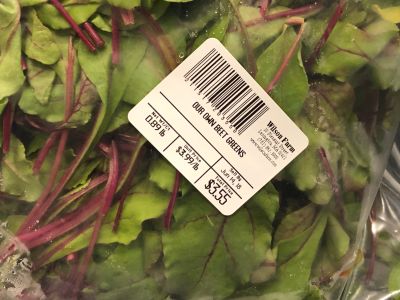 Wilson's Farm Baby Beet Greens
This dish is very simple to make and is so healthy you simply have to try it. And whether you add the boiled egg or not, definitely try the vinegar, whether it's apple cider, rice wine, red wine or white wine vinegar. And let us know what you think and how you make it your own. Enjoy!