This recipe is so good in the summer because it uses vegetables that are all available fresh from the garden. And it only takes 15 minutes to cook once you get your ingredients together. You can start the sauce when you put the pasta in the boiling water and they are both done at the same time. Perfect!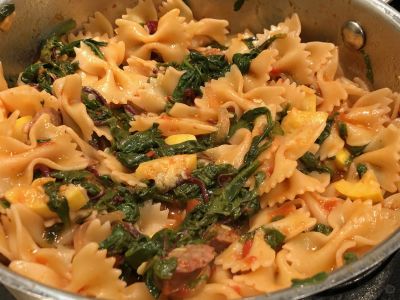 Pasta Ready to Serve
I use baby beet greens and baby spinach. If you can't find baby beet greens (I get them at Wilson Farm in Lexington, MA) you can use regular beet greens. Just as good. And I find that soaking both of them in cold water in a salad spinner invigorates them but that is certainly not necessary. If you do soak them, spin them once to get most of the water off of them.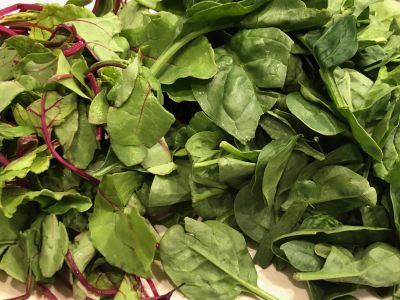 Baby Spinach and Baby Beet Greens
For the tomatoes I highly recommend San Marzano tomatoes. I use only 4 tomatoes without a lot of excess juice. And whatever is left in the can you can put in a covered bowl and refrigerate for use later. The San Marzanos are much better for this recipe because they break up easier.And if you are not familiar with them, check out
12 Things You Need to Know Before Cooking with Canned Tomatoes
and you will learn all about canned tomatoes.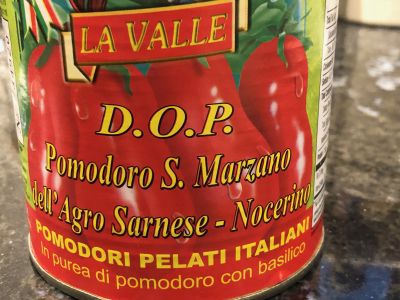 LaValle D.O.P. San Marzano Tomatoes
And before you ask, yes you can add all sorts of other vegetables to this dish, either in addition to what's here or to replace it. Maybe try zucchini, roasted eggplant, escarole, kale or whatever else you think would be good. Just be careful with the tomatoes. I use only 4 without the juice. This is not spaghetti sauce and in any event your pastas should not be "over sauced". In my humble opinion of course.
Beautiful Fresh Summer Squash
So give it a try and let us know how you make it your own. It is a great way to get vegetables into the kids also. Enjoy!