When I first moved to Houston I made a recipe for red beans and rice that I found on the back of an Uncle Ben's Brown Rice box. It was made with canned ranch style beans and had some bacon and onion in it and was served over brown rice. Actually I thought it was pretty good and someone told me they would have to share the recipe with their friends in New Orleans. I was surprised that red beans and rice was actually a thing because I had never heard of it being from New England.
So whenever I saw it in a restaurant I would order it and got to learn what red beans and rice actually was as a dish. Nothing like my original version although that was certainly easier to make and in its own way was actually pretty good. One of my favorite versions was served at Treebeard's Restaurant in downtown Houston so I started looking at recipes and trying to duplicate it. It is most often made with smoked sausage and I always make mine with sausage which really should be smoked sausage from Texas or Louisiana.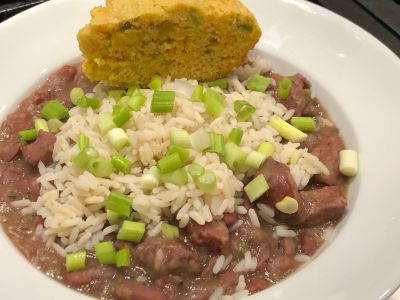 Red Beans and Rice Served with Jalapeno and Cheddar Cornbread
I finally settled on this recipe and have not changed it in quite a while. It is a rib sticking dish that always satisfies and has a tremendous depth of flavor. And if you are from somewhere outside of Texas or Louisiana you can certainly try it with whatever smoked sausage is local to your area. In Boston that would be kielbasa although I still order sausage about once a year from Chappell Hill Sausage Co. in Chappell Hill, TX which is about 50 miles northwest of Houston.
So I encourage you to give it a try and let us know what you think and how you change it to make it your own. Enjoy!